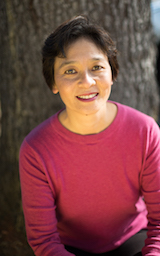 Lisa is a California Board Licensed Acupuncturist and Nationally Certified Acupuncturist. Lisa holds a M.S. degree in Traditional Chinese Medicine from Five Branches University and a B.S. degree in Computer Science from U.C. Davis.
Formally served as out-patient acupuncturist at Kaiser Permanente San Jose Medical Center, subject expert for the California Acupuncture Board, and in-patient massage therapist at El Camino Hospital, Lisa is the author of Pocket Guide to Your Body's Control Panels and Healing By Design Self-Care Guide: Relieving Headaches In Minutes. Her specialties are Auricular Medicine and Healing By Design™ Self-Care Technology that she developed and teaches her patients. She is a member of the Association for Prenatal and Perinatal Psychology And Health.
Lisa is also the founder of Center For Healing By Design, a 501c3 non-profit dedicated to offering self-care education, experience, and tools to people of all ages to awaken them to the wisdom and power of their "inner doctor" for health and for fostering harmonious relationships with themselves and with others.