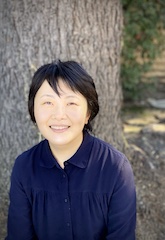 Dr. Marina On, Ph.D. L.Ac. has a unique background in biological science, western medicine and Traditional Chinese Medicine (TCM). She was originally trained as a biomedical research scientist. She completed her undergraduate studies in molecular biology at MIT and graduate studies in medical sciences/ immunology at Harvard. While a postdoctoral fellow at Stanford, she developed a special interest in TCM after witnessing its effectiveness on improving the health and prolonging the life of her family members who suffered from end-stage metastatic cancers; thus began her pursuit of a new vocation in TCM.
Through her studies in both conventional and alternative medicine, Dr. On realized that each system has its merits and limitations. Neither is perfect. While mainstream medical therapies have distinct advantages over traditional healing modalities for certain conditions, the opposite holds true for others. By integrating her extensive knowledge in biomedicine to her expertise in TCM, Dr. On aims to provide a more comprehensive health care in her practice. Her central goal is to combine the strengths of both modern and traditional medicine to help patients achieve optimal health.
Dr. On is fluent in English, Mandarin, Cantonese and Shanghai-nese.